The procurement platform for commercial real estate.
Stop calling around for bids, wrangling vendors, and overpaying for commercial services. Get quality bids fast with Light RFP.




Sit back and watch the bids roll in.
Save time building your RFP scope with a streamlined interface and collaborative features. Get the best bids with a truly competitive process.
Post your RFP scope
Our easy-to-use RFP editor helps you tweak every critical aspect of your RFP. Set dealbreakers, tag properties, invite vendors, and attach project documents.
Clarify scope with RFIs.
Cut out hundreds of emails with a centralized RFI system. Vendors ask publicly anonymous questions and all vendors can review responses to keep everyone on the same page.
Review Bids & Sign
Get notified as the bids come in and compare them side-by-side. Setup multi-round bidding to level set final scope, and sign within the platform.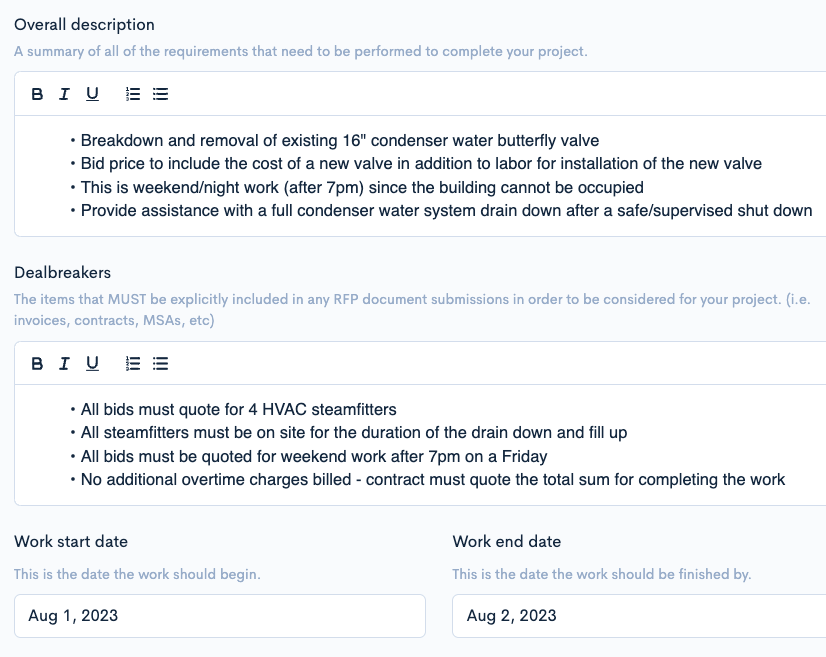 Editor
Refine your RFP scope to be

comprehensive and concise

.

Light RFP's Editor gives you all the tools you need to get the right scope every time. Collaborate with your team across offices and in the field to post your project quickly.
Built in file storage
Easily store company templates and update project files so all vendors are kept in the loop if scope changes.
Make dealbreakers clear
Use our dedicated dealbreakers section to put your foot down on what matters most and discover the most qualified vendors.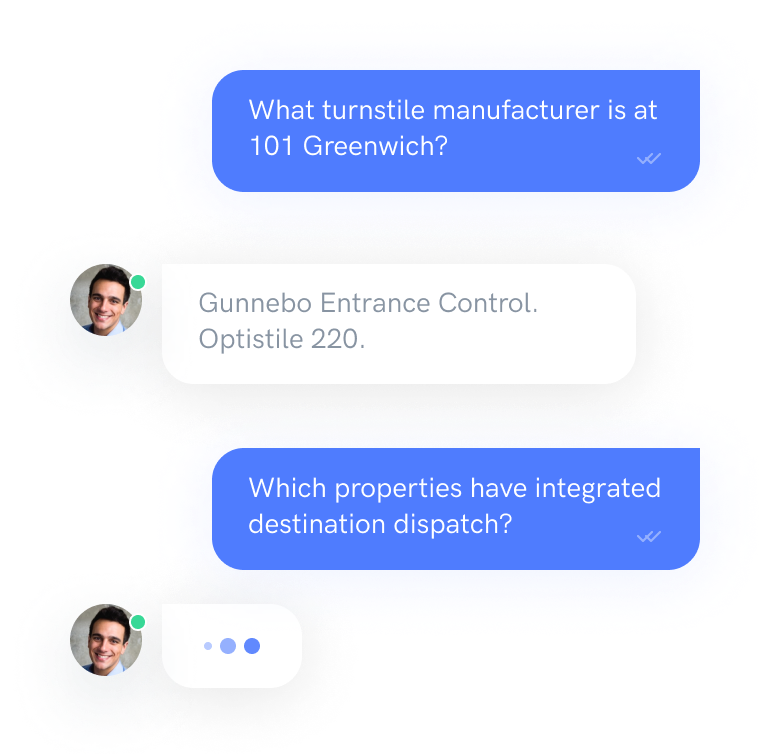 RFI
Centralize communication to

keep your project moving.
RFIs let you cut the back-and-forth of hundreds of emails by centralizing all your vendor communication in one place.
Unified chat interface
All RFI communication flows to one spot in your RFP so you'll never get the same question twice.
Instant updates
Light RFP's platform sends email notifications to all parties for scope updates and RFIs.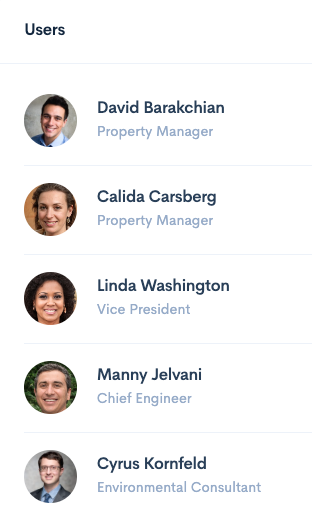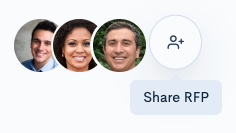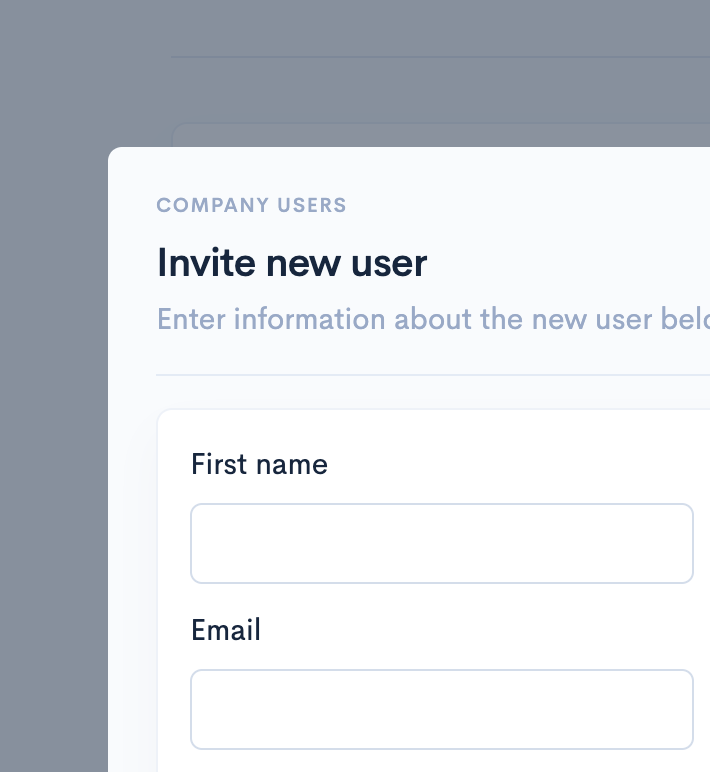 Collaboration
Keep your whole team

on the same page

.

Make sure everyone is kept up to date with notifications and shared access so you can tackle even the toughest RFPs nationwide.
Easy team management
Grant varying levels of access to fit the layers of your organization.
Shared access and notifications
Let colleagues and third parties see or edit RFP's so they can contribute to the project seamlessly.
Why choose Light RFP?
Some common challenges you can solve with Light RFP.
My project is in a new territory and I don't know who to trust
Light RFP brings the best vendors to your doorstep. Focus on completing your projects instead of manually recruiting new vendors and lining up schedules.
My vendors are mediocre but I dont know who is better
Invite your current vendors to bid against Light RFP's network effortlessly. Just post your contract, review references, and select the best vendor available.
I'm overwhelmed by back and forth with vendors via email
We drastically reduce email volume by centralizing the RFI process. Questions answered can automatically send updates to invited vendors.
My RFP is confidential and I need to control vendor invites
You can post your project privately and only invite vendors from your vendor database stored in Light RFP. All parties can use Light RFP with total confidentiality.
My project has a large scope and an aggressive timetable
State your timetables as "dealbreakers" on your project's RFP page and receive bids from available vendors willing to commit to your project's deadlines.
I need to manage many RFPs across different properties
Light RFP is specifically designed to help property managers and executives who oversee a portfolio of properties to easily manage RFPs together.
I need vendors to help me build the right scope for my project
Light RFP caters to multi round bidding so property managers can level set bids and have vendors inform their scope during site visits.
I need to manage my to do list and collaborate with peers
Set up reminders for yourself or your team within Light RFP to keep track of tasks like ordering new materials, contract renewal dates, and weekly to do lists.
"I have been surprised by the cost savings and speed of execution on every RFP we have completed. It gives me the confidence that I can come in below my budget numbers while maintaining a high level of quality."
Pricing
Our pricing is incredibly
simple.
Vendors only pay when they win a bid. Stop paying for bogus leads. Discover new business and only pay for signed contracts.
Self-Serve
winning bid
Free to post, 5% fee to the vendor
Scope creation and cloud file storage
In-app vendor communication via RFIs and Live Chat
Review insurance, W-9, licensing, references, and past projects before vendor selection
Get started
Unlimited
based on portfolio size
Everything in Self-Serve plus:
Full-service account management
Full compliance records history
Send RFPs to your current vendors while extending your network to Light RFP's marketplace of vetted vendors
Let's Chat
Experience procurement perfected.
Find the best vendors and move your projects forward quickly with an all-in-one platform to run perfect RFPs every time.
Try for free